Enroll to Intune by Co-Management
Till now, we have seen all possible options to enroll Windows 10 or Windows 11 devices to Intune. Co-Management is another way of doing bulk enrollment of corporate devices(joined to domain). Here, there is two paths through which we can achieve Co-Management environment.
The devices are already SCCM client (Existing device).
Brand new devices
To get more into this paths, Saurabh Sarkar has written a fantastic post on Tech Community. Please go through this post to better understand step by step auto enrollment flow.
What is Co-Management ?
Co-management enables IT admin to manage Windows devices by using both Configuration Manager and Microsoft Intune concurrently. This method enables automatic enrollment of corporate-owned devices to Intune.
Pre-requisites
Device should be Hybrid Azure AD Joined
Device should be Windows 10 build 1709 or later
Configuration Manager version 1710 or later.
Steps required
Step 1: Install SCCM Client on the required client device and check for exit code status under ccmsetup.log (c:\windows\ccmsetup\logs)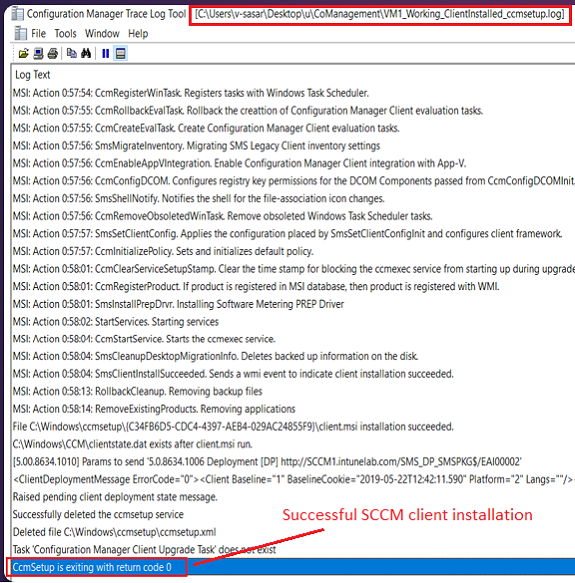 Step 2: Enable co-management in the Configuration Manager console.
Note: Choose Either All or Pilot for enrollment. If you select Pilot, only the Configuration Manager clients that are members of the Intune Auto Enrollment collection are automatically enrolled to Intune. If you select All, then automatic enrollment will occur for all Windows 10 computers provided they are running version 1709 or later.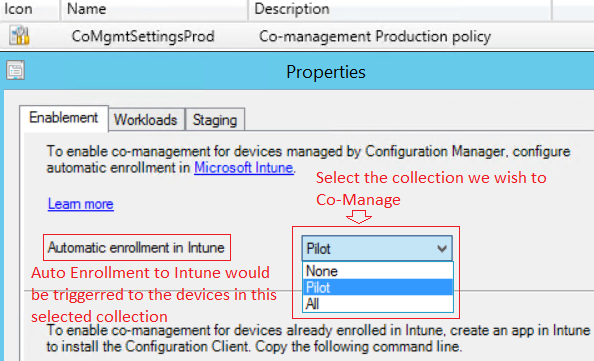 Step 3: We add the Windows 10 devices we want auto-enrolled into the Intune Auto Enrollment collection.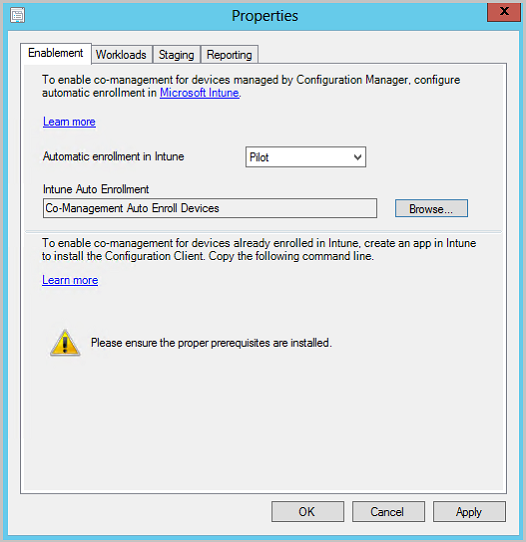 Verify Successfull Enrollment
Managed by MDM/Config Mgr in Intune Console

Info button presence (Location: Settings -> Account -> Access Work or School)

By runnning dsregcmd /status in command prompt(as an admin mode)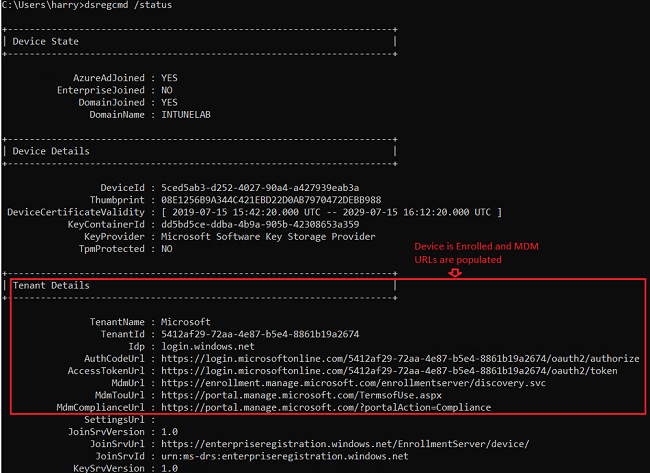 Microsoft-Windows-DeviceManagement-Enterprise-Diagnostics-Provider in Event Viewer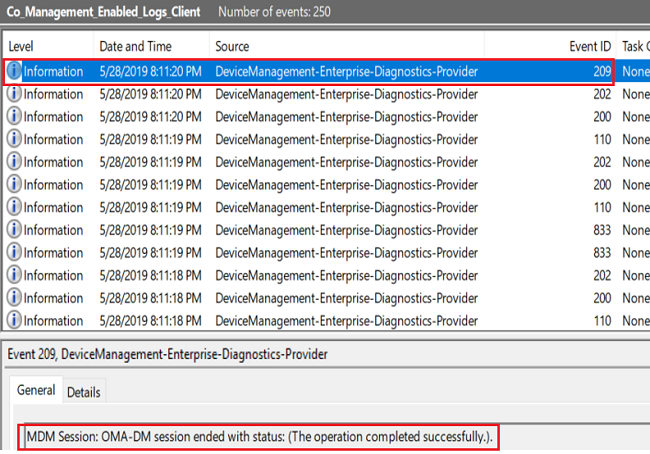 References
Co-Management explained in MS doc