Manual Enrollment
Enroll only in device management
If there is requirement to enroll a device to Intune but should not have any AAD joined Registration record in Azure, we can ask user to tap on Enroll only in device management in Settings app in Windows and it will be treated as personal device in Intune portal. This method is useful when user doesn't have license assigned. In this case, the device is only enrolled to Intune but is not AAD Registered/Joined and we will not find enteries of this device in Azure which means the device can be seen in "All Devices" in the portal but not under "Azure AD Devices". With this type of enrollment, we can push MDM policies from Intune.However, this method is not recommended because of some reasons listed below : - will not register device in Azure AD. - conditional access policy won't get applied. (as device required to be Azure joined for CA policy )
Steps required:
Step 1: Open Settings app.
Step 2: Select Accounts.

Step 3: Navigate to Access work or school.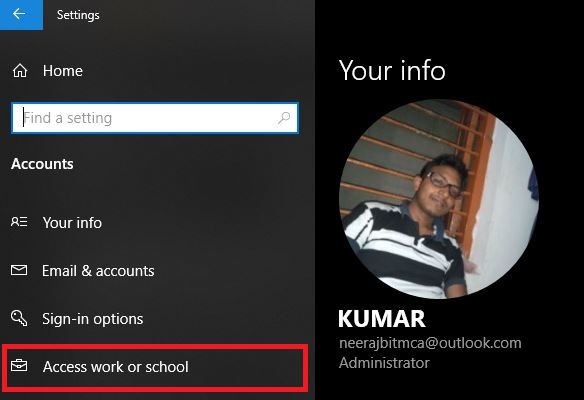 Step 4: Select Enroll only in device management option.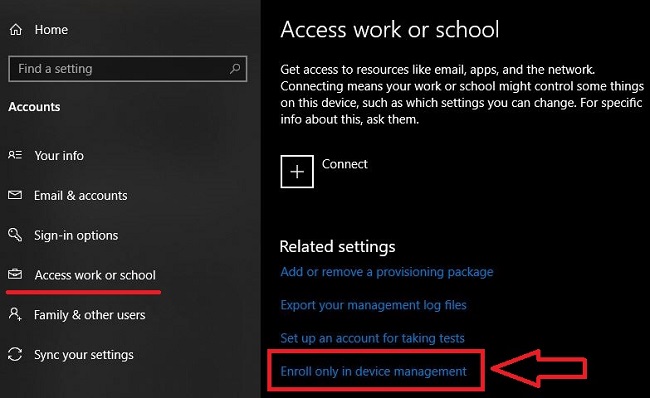 Step 5: Type your work email address.
Now, If the device finds an MDM endpoint, user will be asked to enter corpaorate credentials and will ask to fill their Multi Factor Authentication(MFA) details. Finally, your device will be connected to your organization's MDM and you can see below enrollment progress on screen.